Notices, Terms and Conditions
GENCO Federal Credit Union is committed to protecting the privacy of our members. In general, you can visit us on the World Wide Web without disclosing to us who you are or revealing any information about yourself. There are several areas, however, that will collect certain information about you and we want you to know how we handle that information.
If you visit our website, GENCO Federal Credit Union collects and stores information on the domain you use to access our website, the Internet address of the site from which you linked directly to the site, and the date and time of your visit. This information is used to measure the number of visitors to the various pages on our site to better serve our membership.
If you send an e-mail, GENCO Federal Credit Union collects and stores personally-identifying information in order to process your e-mail, form or application. This information is not sold to any third parties. Due to the volume of e-mail activity, these messages are deleted after they are answered or completed.
If you visit a secure site, such as home banking, you will be asked for personal identification numbers which will give you access to the member only section of our website. This information enables GENCO Federal Credit Union to regulate entry to the member only portions of our website and to measure member usage. Any identifying information gathered is not sold to third parties.
If you link to another site from any of our pages, you are leaving our site pages, and we cannot be held responsible for any information that may be gathered at a linked site. We make every effort however, to ensure that all linked sites follow similar privacy policies as ours to offer you maximum security and privacy.
Third party websites are not operated by the credit union. The credit union does not represent either the third party or the member if the two enter into a transaction. Privacy and security policies may differ from those practiced by the credit union.
Protecting Information
We maintain physical, electronic and procedural safeguards to guard your nonpublic personal information. Our operational and data processing systems are contained in a secure environment and that environment is access-controlled.
We use various authentication technologies, including passwords, to authenticate visitors to the portions of our website that may allow access to private or confidential information. We have implemented other security controls such as firewalls, intrusion detection and intrusion prevention to protect our systems and networks and your information. Our security systems constantly monitor the web server to ensure your accounts are safe and secure.
Email
Email messages are not secure. We are not responsible for the security or confidentiality of communications sent to us via Internet email messages. Generally, our security software does not encrypt email messages, unless we specifically send you an encrypted email message. Email messages traveling through the Internet are potentially subject to viewing, alteration and copying by anyone on the Internet. Be cautious when submitting personal or financial information via email. Send confidential information through the secure email portal located inside of our home banking, postal service or use the telephone to speak directly to our employees.
Internet Fraud
GENCO FCU wants to protect members by warning them about a growing form of Internet fraud called "phishing." Fake email messages are disguised to look like requests from real businesses. These emails request private information. The information is then used to access financial records and steal identities.
You should not respond to emails from GENCO FCU that request validation of personal information or link to Web sites requesting validation of personal information. We do have a phone response system in place to verify your identity for our Internet Banking Product only.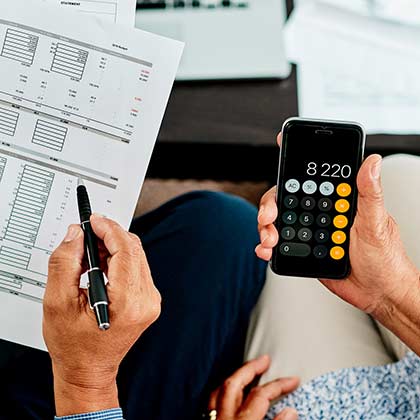 I want to: Calculate my options
Use these online calculators as a resource for planning, estimating and exploring your financial opportunities!