Regular Savings
A deposit of $5 opens your savings account and establishes your membership.
From automatic deposits to payroll deduction to competitive dividends GENCO is a good place to save.
The minimum amount to open an account is $5, which is your minimum balance requirement.

Dividends are compounded and paid quarterly on balances of $100 or higher

ATM card accessible
Make up to 3 withdrawals per month

Set up automatic deposits of all or part of your paycheck at no charge
Savings Safari Club - Annual Easter Party April 8, 2023
A deposit of $5 opens your savings account and establishes your membership.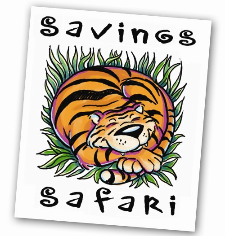 Minimum of $15 to open the account which makes you and your child eligible for all the benefits and events.

GENCO Federal Credit Union's Savings Safari accounts are the beginning of a great relationship for your kids with their first credit union. A savings account allows them to save for the future, a rainy day, a college tuition or that new car; plus, you'll earn competitive dividends on average daily balances. 

Dividends are compounded and paid quarterly

Make up to three withdrawals per month

Set up automatic deposits from your paycheck at no charge

AND as an added bonus! Your child will be invited to GENCO'S Safari Club holiday party. Each year we host an exciting Easter Egg Hunt with the Easter Bunny. Club members will get an exclusive invite in the mail!  You won't want to miss this event!     
Start planning now for your holiday shopping.
The GENCO Federal Credit Union Christmas Savings Club is designed to help you set aside the cash you will want when the Holiday season begins. Make a monthly scheduled deposit and forget about it. The amount you save all year is then transferred to your savings or checking account in mid-October each year. Instant holiday cash!
You can also use these funds for vacations, taxes and more.
The minimum deposit to open a Christmas Club Savings account is $5. Earn competitive dividends on average daily balances of more than $5, paid quarterly. You may deposit funds at any time. However, this is a limited-access account, meaning no partial withdrawals are allowed.
Accounts may be opened at any time of the year and automatically renew each year.
Check out how fast your holiday cash can grow!
$5 a week: $260 per year

$10 a week: $520 per year

$20 a week: $1,040 per year

$50 a week: $2,600 per year

$100 a week: $5,200 per year
As you can see, the dollars add up fast. Don't delay, start today!
Savings Advice
Whether you're saving for educational expenses, retirement, or for a rainy day, we have the accounts and the resources to help you achieve your goals, and make your dreams come true.
Got your eye on a new car? What about that must-have computer or a big TV for the upcoming game? No doubt, you've got your heart set on something special, but how are you going to pay for it?
Rather than purchasing on credit, consider planning ahead and paying for the item outright. There are numerous ways to save. A good place to start is with a basic savings account.
Save with a Direct Deposit - It Gets You There Faster
One tried-and-true way to save money is to use Direct Deposit to send a portion of your pay directly into a savings account. This out-of-sight, out-of-mind approach helps keep you from feeling tempted to spend the money. And if the budget's tight, it's okay to start small. Even $5 each week is a perfect start. The point is to start saving—now.
At some point, you're probably going to want to get a better return on your savings. You'll want to start thinking about certificates and IRA's, which provide advantages that a savings account does not.
Share Certificate of Deposit
Generally pays higher interest or dividend rates than regular savings accounts.

Requires you to open or "purchase" a certificate for a specific amount of time. You cannot withdraw the money during that time without paying a fee.

Often requires a minimum deposit to open.

Money is able to be withdrawn or moved into another certificate once it matures.

IRA
Generally provides tax advantages.

Does not require a minimum deposit to open.

Excellent approach for retirement, as you cannot withdraw money until age 59½

Emergency Funds
Experts recommend establishing an emergency fund that equals a minimum of three months' salary. This fund can be used for unexpected auto repairs, medical expenses, or living expenses should there be a disruption in your regular income. (Just remember to replenish the fund if you ever borrow from it!) And remember, if you come into a large sum of money like a bonus or tax return, consider saving the majority rather than spending it.
Getting your financial situation in order doesn't have to be difficult. A bit of patience and careful planning goes a long way. Dollar discipline is about smart budgeting. The better you budget, the better off you'll be.


Developing a good budget and personal money management skills consist of identifying your goals, setting priorities, making a plan and keeping a record of your expenses so you can review and evaluate your goals. Remember, a budget is not just a tool to help you live within your income. It is also a way to help you get what you want out of life.
Setting Up Your Budget
You can create a budget in four easy steps.

Identify how much money comes in each month. Smart Tip: If you're Active Duty, don't include military housing or food allowances in the income portion of your budget since they can disappear if you're deployed.

Write down the amount that goes out each month.

Divide your expenses into two categories: fixed and variable. Fixed expenses include payments that don't vary from month to month, like rent, car payments, and internet bills. Variable expenses include expenses that change from month to month, like groceries, dining out, and clothing purposes.

Total the income and the expenses columns and make a plan for how you'll spend money this month. Smart Tip: To help simplify the process, consider using a basic computer program like Excel or using a specialized program like Quicken.
Keeping To Your Budget
Now that you've set up a budget, it's time to put it to use. During the first few months, continue to track expenses and compare them to your spending plan.
Remember, this is your plan, so spend a few minutes thinking about what you want. The following questions may help you hone your budget into a spending plan that complements your goals:
Does the budget match your financial reality, or does it need to be tweaked?

Are you staying on track with your spending plan? If not, what needs to be changed? If so, what was easy?

Are there areas of spending that can be trimmed?

How can you make the budget work for you?

What are your short-term financial goals? What are your long-term financial goals?

Is the budget set up to help you reach them?
Update Your Budget
A budget that works today won't necessarily work in five years. The following life changes often mean it's time to rework your budget, so don't hesitate to modify it as needed:
Getting a new job, promotion, or raise

Changing your marital status

Having a baby

Making (or planning to make) a large purchase, such as a new car or house

Moving to a more (or less) expensive location

I want to: Apply for a credit card