Apply today to receive a $1,000 scholarship from GENCO.
---
MCC Foundation Scholarships
Each year GENCO FCU awards a scholarship to an MCC student. The scholarship is for $1,000, $500 each for the fall and spring semesters.
For a student to become eligible for these scholarships they must:

Demonstrate scholastic ability

Enroll as a full-time student -12 hours (9 hours if in a nursing program)

Maintain a 2.5 grade point average while attending MCC (some special programs require a minimum GPA of 3.0).

Applicants who are not current MCC students must first apply to MCC online through Apply Texas.  Details regarding submission of the application can be viewed by clicking on the online scholarship applications. No paper applications will be accepted. Official transcripts are also required to be submitted and they must be received in the MCC Admissions Office on or before the deadline. If you have any questions regarding the application process, please contact Patrick Koon at 254-299-8818 or email at pkoon@mclennan.edu.
Applications can be filled out at the Foundation website. 
If the scholarship is awarded, a student is requested to submit a Free Application for Federal Student Aid (FAFSA) to the Office of Student Financial Assistance.
If awarded and accepted, the student is required to write a thank you letter to the donor and attend the Scholarship Award Reception in September.
---
Angelina College Scholarship
GENCO Federal Credit Union has two scholarship funds with Angelina college in order to recognize two of its members who would be majoring in a business education.
One of our Scholarships is the Virgie Flenoy Memorial Fund
In March of 2021 a $1,000 scholarship was dedicated in memory for a GENCO employee, Virgie Flenoy at
Angelina Community College, Lufkin, Texas. In honor of her years of dedicated service and her belief in the
importance of education of our young people.
Both scholarship recipients must show outstanding academic merit and be a full-time student. Students who are GENCO members may apply to the Angelina College Scholarship Committee using an Angelina Scholarship application.
Applications for the academic year begin on November 4th and are due to the Scholarship Coordinator no later than March 20st of each year.  If you are a returning student you have until the 15th of June to complete your application.
The scholarship is for $1,000, $500 each for the Fall and Spring semesters. The funds are awarded to the student's Angelina College account for the Fall semester as soon as official acceptance is received and once fall transcripts are evaluated. The student is required to meeting the minimum GPA to continue receiving the scholarship.  To apply go to www.angelina.edu
For questions you may contact the Assistant Financial Director/Scholarship Coordinator, Irma Montoya, at Angelina College at 936-633-5386, or email at imontoya@angelina.edu.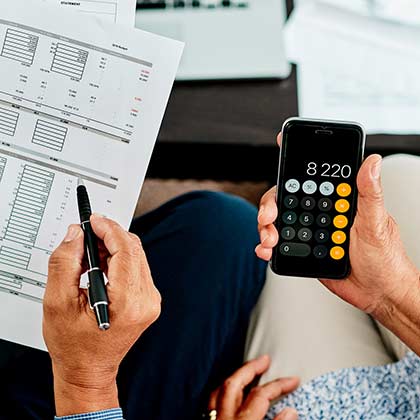 I want to: Calculate my options
Use these online calculators as a resource for planning, estimating and exploring your financial opportunities!